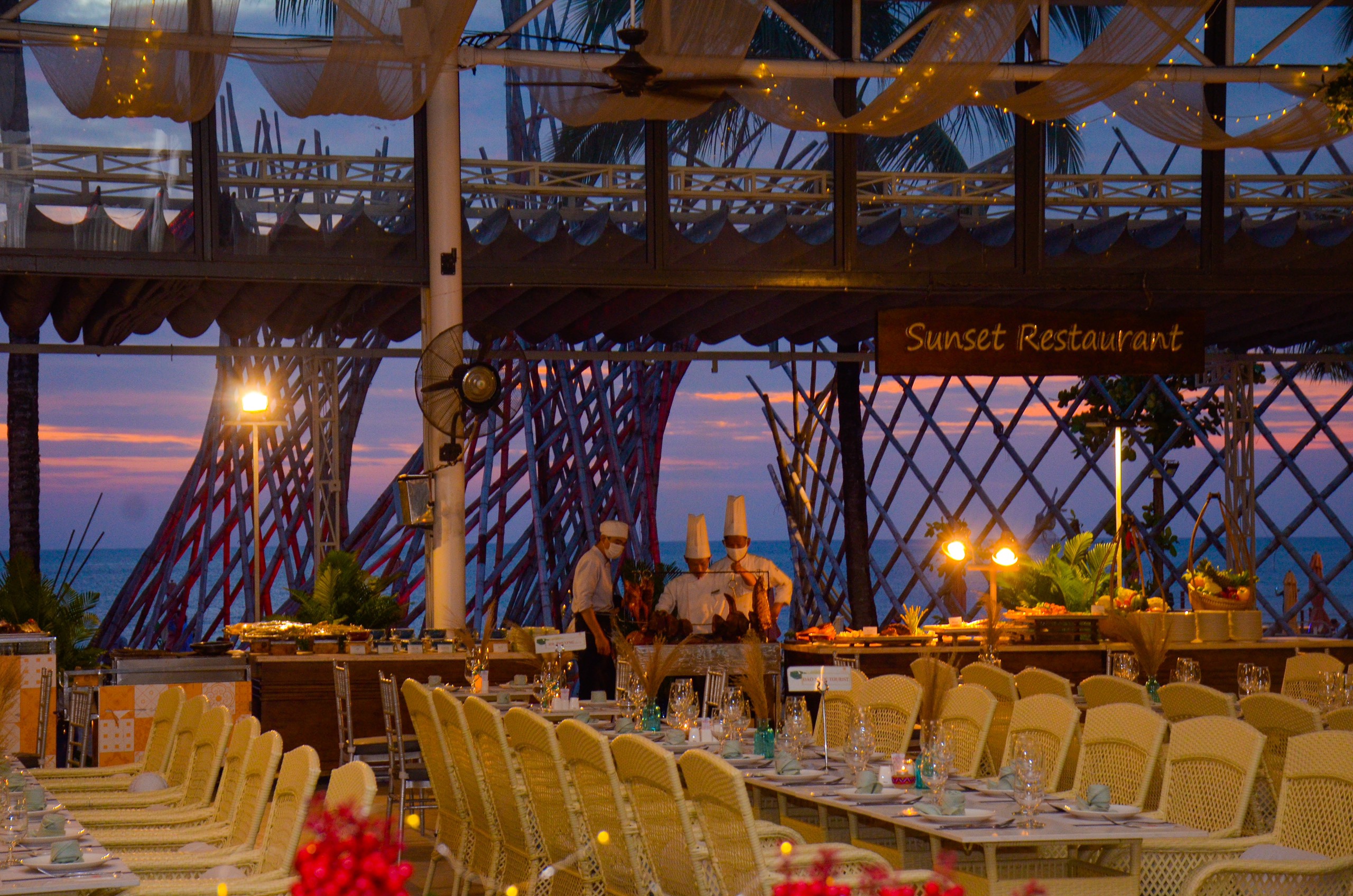 Sunset Restaurant
Located close to the beach, Sunset Restaurant impresses with the winding roof design as a ripple. With two indoor and outdoor spaces, Sunset Restaurant serves from 500 to 1000 guests with various party styles such as Full moon party; Wine BBQ party; Seafood Market; International BBQ; Asia cuisine, … With the subtle architecture with two colors of white – pink, Sunset Restaurant will be suitable for parties with family, birthday party or wedding,…
The food at Sunset Restaurant is full of flavors of Vietnamese cuisine such as seafood and traditional dishes. The lunch menu and the maximum, with carefully selected materials and fine art decor from the team of professional chefs.
The outdoor space of the restaurant is one of the best locations to enjoy the sunset scenery. Enjoy the culinary elite at the Sunset restaurant to feel the nature of the music and evoke simple happiness with family, friends and lovers.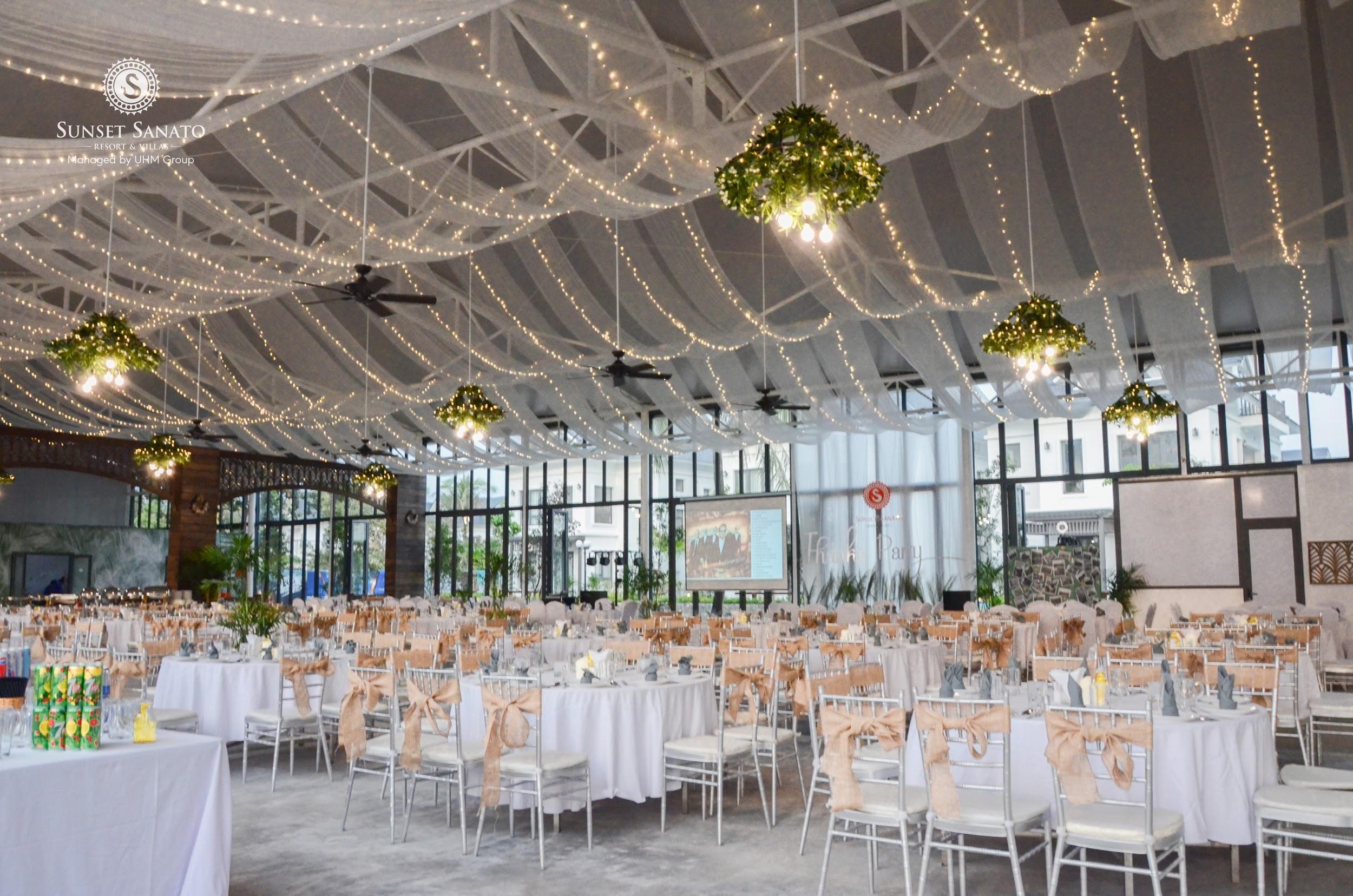 Sunrise Restaurant
You will start a full day of energy with many choices from Sunrise Restaurant in Sunset Sanato for breakfast, lunch & dinner. With a fine dining standard, Sunrise Restaurant gives guests a sense of party – the harmonious combination of light, sound, color and decor; service experience; The menu is exquisite and varied with champagne, white wine, red wine … and a team of celebrity chefs.\\\\r\\
All the spatial and culinary factors will awaken your taste buds at the restaurant. This is definitely an unforgettable experience at Sunset Sanato Resort & Villas.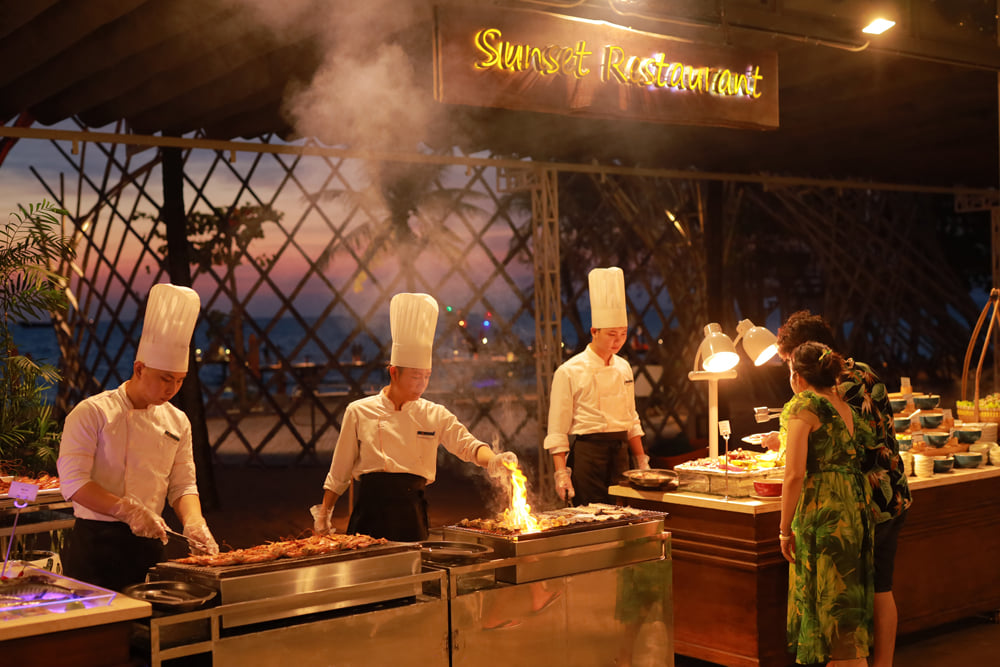 Cuisine Oasis
With the sophistication of Vietnamese culinary culture, the team of culinary experts at Sunset Sanato Resort & Villas will bring you a traditional and intimate gastronomic tour." Like the residents of Pearl Island, visitors come to Sunset Sanato Resort & Villas can explore the exciting "oasis" of cuisine – Seafood Oasis, Full Belly Oasis and Fastfood Oasic.\r\n\r\nBBQ grills, fresh ingredients will be served daily at Seafood Oasis. The harmony of spices balance will make you want to stay longer, to enjoy more delicious dishes at Sunset Sanato. What better than watching the sunset, listening to the waves patted on the ear and look forward to enjoying the scallops, fresh shrimp shining on the charcoal stove. Full Belly Oasis & Fastfood Oasis offer familiar Asian dishes, especially the familiar gifts of the Vietnamese.